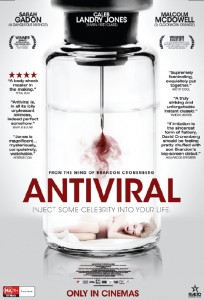 On Netflix Streaming. Sci-fi horror about the near future, when drug companies create a new way for fans to get even more intimate with their celebrities: injections of viruses directly from sick celebrities into their obsessive fans.
The story follows Syd March, who works for the Lucas Clinic, that creates cultures of pathogens directly from the blood cells of sick celebrities, and sells them to fans who seek to have the very cells of celebrities fuse and mutate with their own in a twisted form of identification. Lucas Clinic custom designs the molecular structures of the sicknesses so they are not contagious and therefore not transferable. They want to maintain their patent and profits after all. It's positively diabolical and absurd in its notion, yet, not far from the truth of the spiritual sickness of our culture of celebrity worship. Indeed, watching this film, I actually think it is quite prescient of where we are going as a culture.
One more gruesome corollary of this dystopian future is that celebrities also sell their normal body cells to be clone-cultured and grown into slabs of meat, that are also sold and eaten by the adoring public. It's quite literally a science-justified form of cannibalism, since the cultures are not persons, but just meat made from their cells. Of course, its all done in a very clean and white environment, so the hideousness is hidden behind the veneer of "safe science."
Syd engages in some blackmarket moonlighting by injecting himself with pathogens that enable him to remove the copy protection on the virus, that he then sells to his shady contact. But when Syd injects himself with a deadly pathogen of famous celebrity Hannah Geist, he now must try to save his own life before he follows the young woman to the grave.
Coming from the son of David Cronenberg, one must be aware there will be some influence of dad on this filmmaker. Thus, it is all a bit bloody and physically repulsive at times, artsy and opaque at others. But the directing and acting is excellent, and the beautiful cinematography lent a powerful irony to the eerie darkness beneath the surface. I found it a quite truthful picture of the nature of celebrity worship and how it is a form of idolatry that leads to bizarre self-inflicted degradation on the part of the populace, as well as the willingness on the part of celebrities who are virtual and willing house slaves to those who "cannibalize" them.
This movie was weird, but it really had a profound spiritual truthfulness to it that remains an echo in my memory, long after I've forgotten whatever big stupid movie I've seen in the theaters this week has dissolved.