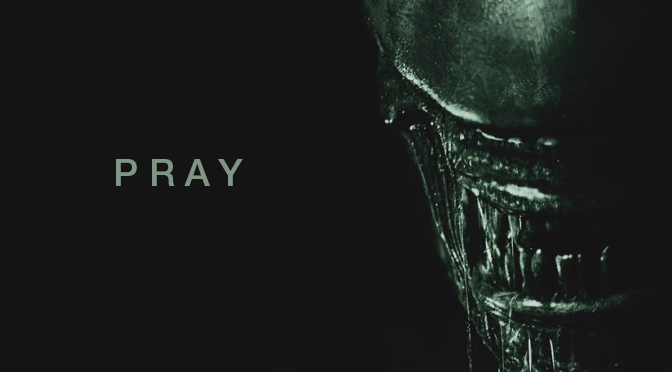 Alien: Covenant views like an atheist version of a bad Christian movie.
Look, I was a fan of the original Alien, as one of the best sci-fi horror films of all time. Although I can no longer watch it because it's gimmick of slow build suspense doesn't work any more. It's no longer scary, it's just boring. One dinner scene remains emblazoned on film history, I won't deny that. But the film no longer stands up for me.
Not so with Aliens. Aliens is the only one that still works in the series. It is the classic that surpasses the original. But of course, it isn't Ridley Scott, it's James Cameron, a superior storyteller. But I digress.
The Devolution of Atheist Storytelling
It seems as Scott gets older, his hatred of God burns brighter. Which is not a wise thing, considering how close he is in age to his own demise. And the worse his films seem to get as well. It's almost as if Scott's filmmaking is an argument for the existence of God. The more you apply atheism to your storytelling, the more irrational and the less satisfying your storytelling is for the human spirit.
Gladiator (2000) was quite simply a masterpiece of filmmaking. But it was pagan. Okay, a pagan masterpiece. An inversion of the gladiator movies of the past from their Judeo-Christian context into a celebration of pagan "transcendence." Not because Scott (or his atheist screenwriter, David Franzoni) believes in such silly things, of course, but simply as a mythical embrace of anything other than Christianity. All the persecution of Christians in that era was quite literally cut out of the story.
Hannibal (2001) was a mocking subversion of the Christ story that transformed the cannibalistic serial killer into a Christ figure and the "real villain" was a caricature of a fundamentalist Christian. Satan as hero, worthy of the Scorsese award for antichrist filmmaking. And just a stupid movie.
Kingdom of Heaven (2005), was a humanistic reduction of all religion as morally equivalent and reduced to conquest. Wait. No. Actually, it was the denigration of Christianity to Islam, since the Crusades were depicted without their context of defense against imperialist jihad, and since the Muslims were portrayed as being more noble in their culture than the Christians. The story is about a Christian knight after all, who loses his faith in the face of multicultural experience of the other. (once again, any enemy of Christianity seems to be this director's friend, even if that enemy hates him and wants to enslave the world) The problem is that this movie is an epic that lacks transcendence, even the pagan transcendence of Gladiator, and therefore becomes uninspiring and forgettable.
Prometheus (2012) (another pagan myth) was the mind-numbingly boring attempt to make the ancient aliens theory look aesthetically acceptable. But it's still just the ridiculous atheist fairy tale that the gods of religion come from aliens. And they laugh at Christians claiming we believe in ridiculous made-up myths! Oh, and don't forget, in this one, Jesus Christ was an alien. Gotta love that shot of the artwork of an alien in a crucifixion pose. Just give us some aliens vs. humans, damn you!
The Counsellor (2013) an uninspiring piece of nihilistic trash. When you argue that there is no meaning or purpose in reality, is it any wonder, your stories become meaningless and without purpose?
The abominable Exodus: Gods and Kings (2014) displayed Scott's apex of vile anger and contempt for the God of the Bible by reducing him to a tamper tantrum-throwing child, a figment of delusion—more a projection of Scott's hypocritical atheist moralizing (since atheism claims there are no moral absolutes) than a nuanced understanding of complex deity and ancient sacred storytelling. They say your view of God is often a reflection of how you see your father. Well, I can only hope Scott will one day see beyond his own self-righteous hatred of daddy to find the grace that would actually give his hopeless life and absurd universe some meaning and purpose.
It Just Keeps Getting Worse
Now, Alien: Covenant carries on Scott's legacy of Christophobic atheism. Continue reading →