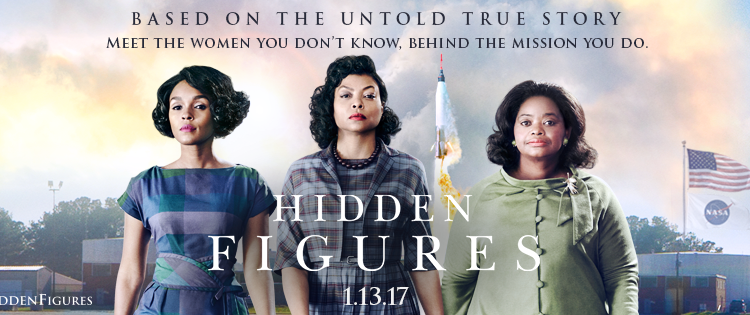 The true story of the positive influence that African-American women had on the success of the early years of NASA's space program.
WOW. Watching this movie made me tear up with hope over the heroic dignity of its characters more than I have in a long time. (Well, actually, Hacksaw Ridge moved me as much, but before that, not in a while).
We follow the stories of three particularly brilliant young black women: Katherine Johnson, played with graceful fortitude by Taraji Henson; Dorothy Vaughn, portrayed with courageous strength by Octavia Spencer; and Mary Jackson, played with witty womanliness by Janell Monae.
The three are friends whose mathematical intelligence is each off the charts, but whose status as black women in 1950s America does not afford them much opportunity for advancement or success, as they face the prejudices of a society that still needs change in its treatment of women and the black community.
As the women go to work at NASA, we see them face the everyday prejudice of segregated "colored" water fountains, bathrooms and schools. But also, they suffer under the compounded factor of women in a male-dominated workforce, where they just don't have the respect they deserve. The title of the movie, being a clever double meaning of how these women, along with many others, were "hidden" in the background of the achievement of America because of social prejudice.
But this isn't a propaganda film of the SJW grievance industry. Quite the opposite… Continue reading →