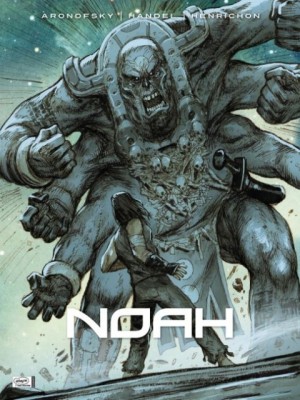 Thanks to the Aronofsky movie about Noah, interest has been piqued in this critically important story of Primeval History. And there is so much more to the original Biblical story than we've been taught in Sunday School. In fact, in some ways, we've been taught wrong. Let's talk about it.
I've written a Biblical fantasy novel called Noah Primeval. I've researched this topic extensively. Noah Primeval has been a category bestseller on Amazon for 3 years. It's first in a series of novels called Chronicles of the Nephilim.
If You Think Aronofsky's Nephilim/Watchers are Fantastical, Wait Until You Know What Really Happened.

Word on the street is that Aronofsky's Noah has Watchers that fall from heaven, and are huge giants made of rock with multiple arms. And also that they came to earth to help mankind, but have become rejected either by man or by God. It sounds like he's confused the Watchers and mixed them up with the Nephilim spoken of in Genesis 6, which are two different beings. We'll see when the movie comes out.
But the interesting thing is that this was one fantasy element that Aronofsky did not have to make up because the truth is stranger than fiction. I don't know why he didn't follow the Enochian/Jude/Peter interpretation of the Bible. Maybe he didn't know about it. I'll explain.

In previous posts, I wrote that the Watchers, or Sons of God, came from heaven and mated with the daughters of men. These angelic rebels were seeking to pollute or corrupt the image of God in mankind as well as stop the promised Messiah from coming through a fully human bloodline.
But the text says that the offspring of this angelic/human union were the Nephilim. Who the heck are they? There are a lot of books and movies and TV shows that have played with the notion of Nephilim (remember the X-Files?). But so much of that is just made up entertainment. Let's look at what the Bible actually says about the Nephilim.
Fun Facts About the Nephilim in the Bible

Genesis 6:4
The Nephilim were on the earth in those days, and also afterward, when the sons of God came in to the daughters of men, and they bore children to them. Those were the mighty men who were of old, men of renown.
Numbers 13:32–33
"The land, through which we have gone to spy it out, is a land that devours its inhabitants, and all the people that we saw in it are of great height. And there we saw the Nephilim (the sons of Anak, who come from the Nephilim), and we seemed to ourselves like grasshoppers, and so we seemed to them."
The two passages quoted above are the only two places in the Bible where the Hebrew word Nephilim is used. The Genesis verse occurs before the Flood, and the Numbers verse occurs as Moses and the Israelites are in the Exodus standing on the verge of entering into the Promised Land. And it is very important that the Anakim in the Promised Land are direct descendants of the Nephilim before the Flood.
But the question remains, what does the Hebrew word Nephilim mean? Some scholars looking at the root word claim that it means "fallen ones" because that is what the Hebrew means, "to fall." But there is a problem, and that is that the Septuagint (an ancient Greek translation of the Bible) which is sometimes quoted by the New Testament authors as authoritative, translates this word as "giants." Did those ancient Hellenized Jews not know the true meaning of the word? Or did they know something we do not?
Indeed, most all the ancient Jewish sources before Christ understood this term to mean "giant." Here is a list I compiled of the many ancient sources that understood these beings as giants.
Biblical scholar Michael S. Heiser has revealed a Biblical reference that virtually seals the proof that Nephilim are giants, not merely "fallen ones." In his article "The Meaning of the Word Nephilim: Fact vs. Fantasy,"(1) he explains that Numbers 13:32-33 has the word "Nephilim" twice. And that in the original language, the first Nephilim is the Hebrew spelling that could mean "fallen ones," but the spelling of the second Nephilim is in Aramaic, and that word definitely means "giants." So the author is making an equivalency between the two words in Hebrew and Aramaic. Call them "fallen ones" or not, the Nephilim are not the fallen angels called Watchers, they are not ancient aliens and they are not Annunaki. The Nephilim are giants.

Let's take a look at the Anakim who were the descendants of the Nephilim. The Anakim or "sons of Anak" are unquestionably defined as giants throughout the Bible because of their tall height (Num. 13:33; Deut. 1:28; 2:10, 21; 9:2). One of the most famous of all those Anakim giants was Goliath. He stood at 9 feet 9 inches tall. And his brother Lahmi was of the same titanic genetics (1 Chron. 20:5). Philistia had a big problem with these Anakim giants, as 1 Chronicles 20:4-8 and 11:23 attest to no less than five giants who seemed to be seeking King David out, and were killed by David's warriors.
As it turns out, the Anakim were not the only giants in the land. Evidently the land in and around Canaan was crawling with giants that were called by different names in different locations. Deuteronomy 2:10-11, 20-23 says that there were giant clans, "great and many, and tall as the Anakim." The names of the clans were the Emim, Rephaim, Zamzummim, Horim, Avvim and possibly Caphtorim.
But if we go back in time from David to Joshua and the conquest of the Promised Land, we see that the giant Anakim that David was fighting were merely the leftovers from Joshua's own campaign to wipe them out:
Josh. 11:21-22
Then Joshua came at that time and cut off the Anakim from the hill country, from Hebron, from Debir, from Anab and from all the hill country of Judah and from all the hill country of Israel. Joshua utterly destroyed them with their cities. There were no Anakim left in the land of the sons of Israel; only in Gaza, in Gath, and in Ashdod some remained.
King Og of Bashan, who Moses defeated, is described as one of the last of "the remnant of the Rephaim" whose bed was over 13 feet long and made of iron (Deut. 3:11). That is no kingly bed alone; that was a large strong iron bed to hold a giant of about 11 feet tall.
I write about all this and more in my novels Joshua Valiant and Caleb Vigilant.
But it all starts with Noah Primeval.

List of Giants

The Bible reveals that there are many different clans that either were giants or had giants among them that were ultimately related in a line all the way back to the Nephilim of Genesis:
Nephilim (Gen. 6:1-4; Num. 13:33)
Anakim (Num. 13:28-33; Deut. 1:28; 2:10-11, 21; 9:2; Josh. 14:12)
Amorites (Amos 2:9-10)
Emim (Deut. 2:10-11)
Rephaim (Deut. 2:10-11, 20; 3:11)
Zamzummin (Deut. 2:20)
Zuzim (Gen. 14:5)
Perizzites (Gen. 15:20; Josh. 17:15)
Philistines (2 Sam. 21:18-22)
Horites/Horim (Deut. 2:21-22)
Avvim (Deut. 2:23)
Caphtorim (Deut. 2:23)
The following are implied as including giants by their connection to the descendants of Anak in Numbers 13:28-29:
Amalekites
Hittites
Jebusites—The word means "Those who trample"
Amorites (Amos 2:9-10)
Hivites
Here were the towns, cities or locations that were said to have had giants in them:
Gob (2 Sam. 21:18)
Hebron/Kiriath-arba (Num. 13:22; Josh. 14:15)
Ar (Deut. 2:9)
Seir (Deut. 2:21-22)
Debir/ Kiriath-sepher (Josh. 11:21-22)
Anab (Josh. 11:21-22)
Gaza (Josh. 11:21-22)
Gath (Josh. 11:21-22)
Ashdod (Josh. 11:21-22)
Bashan (Deut. 3:10-11)
Ashteroth-karnaim (Gen. 14:5)
Ham (Gen. 14:5)
Shaveh-kiriathaim (Gen. 14:5)
Valley of the Rephaim (Josh. 15:8)
Moab (1 Chron. 11:22)
Many significant individuals are described in the Bible implicitly or explicitly as giants being struck down in war against Israel:
Goliath (1 Sam. 17)
Lahmi, Goliath's brother (1 Chron. 20:5; 2 Sam. 21:19)
Ishbi-benob (2 Sam. 21:16)
Saph/Sippai (2 Sam. 21:17; 1 Chron. 20:4)
Arba (Josh. 14:15)
Sheshai (Josh.15:14, Num. 13:22)
Ahiman (Josh. 15:14, Num. 13:22)
Talmai (Josh. 15:14, Num. 13:22)
An unnamed warrior giant (1 Chron. 20:6)
And unnamed Egyptian giant (1 Chron. 11:23)
Og of Bashan (Deut. 3:10-11)
The ubiquitous presence of giants throughout the narrative of the Old Testament is no small matter. When God commanded the people of Israel to enter Canaan and devote certain of those peoples to complete destruction (Deut. 20:16-17), it is no coincidence that these peoples we have already seen were connected in some way to the Anakim giants, and Joshua's campaign explicitly included the elimination of the Anakim/Sons of Anak giants.
If you are like me, you've been troubled by God's actions of having the Israelites kill every man, woman and child in Canaan. Our modern cultural bias makes us think that is mere genocide. But there's more going on behind the scenes and it ties in with the fact that these cities all had Nephilim descendants in them. There was a genetic corruption (heavenly/earthly, not racial) taking place that was so heinous, God wanted it stricken from the earth.
The Anakim giants were clearly spoken of as coming from the Nephilim back in Genesis 6, and those were the genetic hybrids of angel and human sexual union. God destroyed mankind and imprisoned those angels who sought to violate God's created order, corrupt God's image in man, and stop the Messiah from being born who would whoop Satan's butt. But their genetic offspring of giants continued on in the land of Canaan until they were wiped out by Joshua and ultimately the messiah king, David.
But it is not until Jesus, the Messiah, that the full victory over the spiritual powers and principalities in the heavenly places would be accomplished. That is for the next posts.
Buy the novel Noah Primeval, here on Amazon.com in Kindle or paperback. The website www.ChroniclesOfTheNephilim.com has tons of way cool free videos, scholarly articles about Watchers and Nephilim Giants, artwork for the series, as well as a sign-up for updates and special deals.
FOOTNOTES:
(1) Michael S. Heiser, "The Meaning of the Word Nephilim: Fact vs. Fantasy" https://godawa.com/chronicles_of_the_nephilim/Articles_By_Others/Heiser-Nephilim.pdf