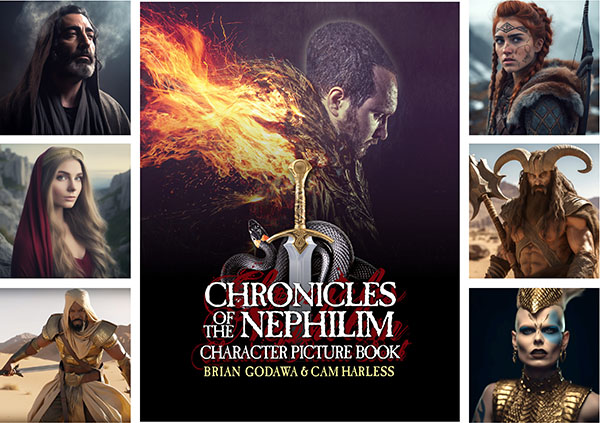 These full-color pictures of my cast of characters in every Chronicles novel will blow your imagination! From Noah Primeval to Jesus Triumphant. All 8 novels!
I have hired the great AI artist, Cam Harless, to do the images with my direction. He is famous for his AI image posters of US Presidents reimagined as babies, as comic book villians, and with mullet hair cuts! (https://wearethemadones.com, Twitter: @hamcarless).
And now I finally have released an 80 page full-color book of all those characters, both major and minor, including alot of the supernatural creatures in the novels. Wait till you see the many iterations of Leviathan! My Nephilim are the scariest realistic looking images of giants. And my heroes, Noah, Enoch, David, Joshua, Jesus are memorable.
It's a GREAT handy visual reference as you read the novels. They'll boost your imagination as you read the novels.
And this collector's item is available in hardcover, paperback and ebook exclusively on Amazon.
You will LOVE this addition of visual imagination to the Chronicles universe.
You will believe.
And, YES, I am working on a Character Picture Book for the Chronicles of the Watchers and Chronicles of the Apocalypse. I'll let you know when that is available.
In the meantime…
Check out the New Picture Book here (in paperback, hardcover or Kindle)