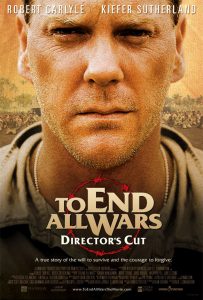 See the Wrap's list of 29 WWII Films with a 7/10 rating on IMDB.
Woo Hoo! After all these years, it's become a classic. Check it out. It's 5th on the page list.
To End All Wars was my first feature film that I wrote that got produced.
It stars Kiefer Sutherland in one of his best roles ever, and if you haven't seen it yet, you can on Amazon Video here.
ONLY $1.99 to Rent. What are you waiting for?
Makes a nice compliment to the awesome Hacksaw Ridge out in theaters now.