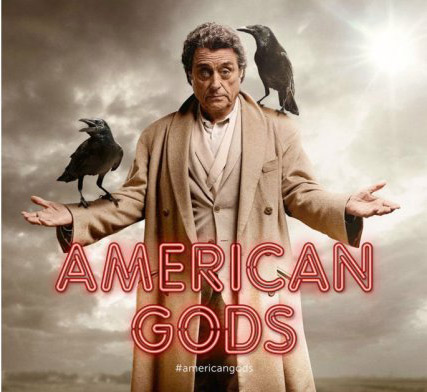 The Starz network series, American Gods, based on Neil Gaiman's horror novel is a supernatural story of the "old gods" who immigrated to America with various people groups rising up in war against the new gods of technology and culture that now rule our society.
It's a great creative idea that in some ways reflects what I have been doing in my own universe of fictional writing. So I was naturally fascinated by the premise.
Unfortunately, it turns out to be a great idea gone bad. A mixed bag of profound spiritual wisdom and depraved humanist blasphemy.
Disenchantment
American Gods focuses on a convict, Shadow Moon (Ricky Whittle), just released from prison only to discover his wife, Laura (Emily Browning), and his best friend died in a car accident while in an adulterous affair. On his way to the funeral, Shadow meets a peculiar old man, named Wednesday (Ian McShane), who hires him as a bodyguard of sorts. Shadow soon discovers that Wednesday claims to be a chief of the old gods who once laid claim to America through those who found their way here in the past, willingly or not. And we see vignettes in each episode of these gods arriving on America's virgin shores—or really, raped shores. Odin with the Vikings, Bilquis and Anubis with some of the slaves, a Leprechaun with the Irish, Jinn with Muslims and others. In the story, these are real beings with real, though limited supernatural powers.
It's a common fantasy theme about the "disenchantment" of the natural world that science and technology creates in modernity. The "old gods" represent the sense of wonder that the ancients had of the life in a world interpreted as containing a goddess of spring, a god of storm, a goddess of sex, and so on. In modernity, and in this story, these gods have become like neglected elderly homeless who scrounge around in lives of squalor as the new gods of technology, like "Media," "Technical Boy," and others occupy us with obsessive entertainment and electronic diversion that amounts to sacred devotion to the profane. We've lost the "magic" and "wonder" of life. We think we've become enlightened and put behind us the ignorance of religion, but we remain decidedly religious creatures who worship new gods under the guise of secularism. The goddess Media sometimes appears as Lucille Ball, sometimes as Marilyn Monroe, icons of worship no less religious than Bilquis the old god of sexuality who calls upon her sexual partners to verbalize worship to her as they engage in sex with her.
Spiritual Profundity
And that is the brilliance of the story, as in the original book by the same title (Although in this case, the show is better than the book). It brings alive a profound truth that modern secular man seeks to deny, namely that secular modernity is just as much a culture of religious worship as the old world. We humans are homo religicus, worshipping beings. And the world of media that traffics in narrative imagination is just as much an artificial creation of the human craving for the transcendent as are the religions of old. We have replaced one mythology with another mythology and mistaken the latter as progress.
Ah, but therein lies the rub…
In one episode, "A Murder of Gods," we are introduced to a Native American religion including a buffalo deity, and a narrator explains that "Gods are great. People are greater. For it is in their hearts that gods are born. And to their hearts they return." "Gods live and gods die" with their human creators. Later, the narrator opines with Augustinian wisdom that there has always been a god-shaped hole in man, but then asks with Nietzschean deconstruction, "What came first, the gods or the people who believe in them? The gods exist because they are believed."
Humanist Blasphemy
And therein lies the blasphemy, namely that throughout the story, the gods express that their reality is NOT ultimately a spiritual reality, but a function of the human creative mind. The gods are merely a gimmick of the fantasy genre, a metaphor for the cultural zeitgeist, projections of our need to create satisfaction for our spiritual longing.
In this humanist worldview the religious impulse in man is very real, but the gods are not. At least they have no ontological reality beyond the power of the human imagination to conjure them as alternate paradigms for the mysterious or magical element of human experience. That is, the "mysteries" of nature, of which we are scientifically ignorant.
And those gods are ultimately self-righteous. We create our own afterlife as well. In episode 4, "Git Gone," the spirit of the dead wife, Laura, meets a "death" character who, in Egyptian fashion, weighs her soul's deeds against a feather to decide her judgment. But since she didn't believe in gods or the afterlife, the weighing is left out and Death says, "In life you believed in nothing. You will go to nothing. There will be darkness. I will forget ever having met you." In one sense, a terrifying annihilation. In another sense, a relativistic dodge of real moral responsibility and justice, worthy of a serial killer's fondest hopes at avoiding everlasting fire.
And of course, "good people's" good deeds outweigh their bad deeds (as in all humanist worldviews).
Yeah, right. Like a criminal whose good deeds in society should get him off from paying for his crimes in a court of law.
There is a side of me that wants to heartily approve with the claim that man-made religion, is a mere projection, to agree that man does create his own gods—at least sinful man. That people obviously do create false religions all through history. From Babel to Rome to Scientology, as Romans 1 says, man does "suppress the truth in unrighteousness" and "worships and serves creation instead of the creator." There is a side of me, affected as I am by modernity at times, to believe that false religion is merely a creation of human imagination.
But even that would be false. For the Bible speaks very clearly that behind the false religions of man are demonic realities.
As King David revealed, the pagan gods of Canaan were demonic:
Psalm 106:37–38
They sacrificed their sons and their daughters to the demons; they poured out innocent blood, the blood of their sons and daughters, whom they sacrificed to the idols of Canaan.
And as Paul affirmed, behind earthly powers are spiritual powers:
Ephesians 6:12
For we do not wrestle against flesh and blood, but against the rulers, against the authorities, against the cosmic powers over this present darkness, against the spiritual forces of evil in the heavenly places.
And those spiritual powers behind pagan religions is demonic:
1 Corinthians 10:20
What pagans sacrifice they offer to demons and not to God. I do not want you to be participants with demons.
And yet, despite this show not being Christian, it does show both old and new gods as capricious, at times malevolent, imperialist and just plain evil—just like the demons Christians would say that they are.
Except there's one problem: Jesus is just another one of them.
It only takes so long before the bigotry of Christophobia raises its ugly head in another Hollywood production.
Oh, Jesus, Where Art Thou?
This humanist blasphemy of religion is of course applied to Christianity as well, as Jesus is depicted as yet another of the many creations of the human imagination.
In the final episode of the season, "Come to Jesus," our heroes end up at a party held by Ostera, the goddess of spring. The storytellers explain that Christianity culturally appropriated the original pagan fertility rites of Ostera and turned them into a celebration of Easter, and the resurrection of Christ—which really pisses off the pagans (nice touch).
What the storytellers may not realize is that Christians have known this for centuries. It's not news to us. Some Christians argue that is why they don't celebrate Easter, because it is just a "Christianized" pagan celebration. But the other side of wiser Christians know the reality that this show reveals: That you cannot eliminate man's religious impulse for ritual and cult and you cannot arbitrarily replace those rituals with alien cult. You must appropriate. You must replace old ways by subverting them with new meaning. Man will always be religious. So changing the subject of his worship is the goal, not denying his sacred expression (the secular world did it right back to us with Santa Claus and the Easter Bunny after all).
Then we see Jesus at the party. Well, actually a multitude of Jesuses, because each one represents a different version of Jesus that is worshipped by different denominational ideas of who he is (as if that's not the case with every belief system). It's a secular joke that attempts to reduce the ontological reality of the historical Jesus Christ into a caricature of yet another one of the pantheon of "created gods" projected by the human imagination.
Again, something that Christian believers would not entirely disagree with. After all, we are the ones who condemn those who seek to create Jesus in their own image—those who justify their self-righteous attempt to avoid judgment for their sin. Christians are the ones who point out that Jesus said that not everyone who called him Lord, Lord would enter his kingdom. That he would tell some of those who thought they did know him that he never knew them (Matthew 7:21-23). The truth is, the Biblical Jesus of history who has risen and is seated right now at the right hand of the Father will reject all the people who worshipped false Jesuses that were not him.
And this Biblical Jesus is the one that the storytellers seek to demonize when they project their own Left Wing narrative onto Jesus. They depict the Savior as if he is a god coming over to America with illegal Mexicans crossing a river. Americans with guns engraved with the phrase, "Thine is the Kingdom" shoot the illegals dead, along with Jesus. These are obviously the Evangelicals who "cling to their God and their guns," in the diseased minds of Hollywood storytellers. In the show, these American "Christians" (demonized caricatures) are shown to be actually worshipping the diabolical god, Vulcan, not Jesus. And they "kill" the real Jesus who was a refugee.
But the truth is, there are no Americans shooting illegal aliens at the border. Though it's certainly a sick dream that the Left wishes were true.  But there are illegal aliens shooting innocent Americans across that border. And there are Coyotes and fellow illegal aliens shooting other illegal aliens. So where's that Jesus-of-the-undocumented-immigrant-crimes?
He who controls the narrative controls the ideology
These bigoted storytellers don't seem to realize that their opposing ideology can play the same game. Their Leftist narrative conveniently ignores the Biblical Jesus who was already here in America with the coming of the Pilgrims and Puritans. You know, the Jesus who was not a criminal violating a country's laws, who valued his family over illegal invading foreigners trying to exploit his country, and who would be murdered by those foreigners, handed over by his own religious Leftist betrayers, like the innocent American women and children raped and murdered by so many illegal aliens in America. Or do they really think Jesus is a racist who would rape and murder—but it's okay because it's done to "white people?"
Some god, that.
But then again, I wouldn't expect the storytellers of American Gods to know the Biblical Jesus. Because they've created their own Jesus in the image of their ideology, while demonizing and accusing others of doing what they have done.
Oh, and one thing we can all be absolutely certain of without even knowing the rest of the series: You sure aren't going to see the storytellers include Allah in their bigotry. And we all know why, don't we? Because that is one god whose followers they actually fear.
That's called Dhimmitude. Look it up.
As Dylan use to crone, "You gotta serve somebody."
Who is the Goddess of Pornography?
It is a real tragedy that the great storytelling renaissance that is now occurring on television is accompanied by an equally dark pornographic nihilistic vision. American Gods is sadly one of those vehicles of debasement that descends into apparently unprecedented graphic depictions of heterosexual and homosexual sex in TV shows.
Everyone on TV is trying to match or outdo Game of Thrones. God deliver us from such deities of dehumanization.
This isn't new of course. There has always been that fine line between exposing humankind's sin and exploiting it. But the reality of sin implied and imagined in storytelling of yesteryear is now long lost in the sensationalist attempt to both shock and titillate through unnecessary graphic portrayal in series like American Gods.
The irony is that American Gods loses all moral authority by regurgitating the very idolatry that the story itself critiques.
But in our world of cynicism, I wouldn't doubt that the storytellers are giggling in their smug depravity thinking it a profound expression of their own nihilism.
Here's a Biblical vision of the gods at war…