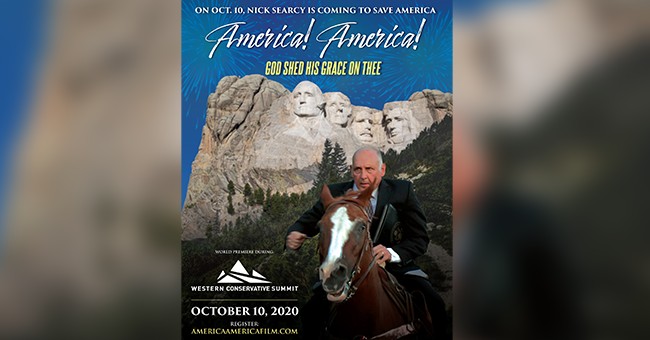 An inspirational exploration of the nature of faith and its role in American government, past and present, hosted by Hollywood actor, producer and director Nick Searcy.
The story begins with Nick Searcy, notorious, shocking and controversial Hollywood celebrity (all these, simply because he is a conservative Christian in Hollywood) watching television and being overwhelmed by the godless political disintegration of our culture into madness and riots. And all of it, celebrated by the dominant left-wing media complex and Democratic Party. So he sets out on a "journey" to Washington D.C. to find out what the heck happened and what role does Christian faith really have in politics and government from our founding to the present.
It's content that is certainly not new, but Searcy brings a fresh take on the material with his entertaining personality and presence. He is well-known for his part as US Marshal Art Mullen in the series Justified. But he has also garnered recent fame for his whimsical conservative humor on social media. He carries that with him in a good-natured way in this film, which definitely makes him one of the better narrators of the slew of conservative documentaries out there.
The trailer shows some of the nicely understated comedic moments of Nick trying to call various Congressmen, Congresspersons and Congress-nonbinaries, to get interviews with them. The pursuit is of course in vain, but not without a few friendly shiv-like moments. Like when he tries to phone Joe Biden's office for an interview and we hear him respond, "Well, do you know where he is? Does HE know where he is?" To Representative Ilhan Omar's staff: "Do you know when she'll be in? Well, is her brother there? Or her husband, or whatever?"
We are then introduced to a series of those he could get ahold of, like politicians Ted Cruz, US Rep. Louis Gohmert, Richard Grenell and HUD Secretary Ben Carson; political and cultural commentators like Alveda King, Ben Shapiro, Dennis Prager, Brigitte Gabriel, David Horowitz and various faith leaders and pastors. He even interviews a wonderfully winsome Herman Cain in his last sit-down interview before his death. Searcy dedicates the film to him. Cain steals the show.
We learn about how Christian faith influenced the founding of the country in leaders like Washington, Madison and others and how freedom was secured through Christian principles and values. He explores Jefferson and the "wall of separation" mythology, the abolition of slavery and Jim Crow and the achievement of civil rights through MLK's biblical principles, and more.
So how did we arrive in this present era of godless violent leftism taking our culture hostage? Searcy's experts and scholars walk us through the legacy of atheism, evolutionary materialism and how the collectivism of Socialism and Communism breaks down the family and individual rights, and ultimately comes after the religious freedom of Christians: The COVID shutdown as an excuse to target churches, Jack Phillips' infamous Supreme Court case about baking cakes that promote values against one's conscience.
But this isn't just a litany of conservative complaints of how old days were better. Searcy also seeks to find a way back to justice and freedom. It begins with the Gospel saving individuals rather than controlling society top-down. But it requires principles and tactics that we should all consider seriously if we want to save our civilization from chaos.
America, America: God Shed His Grace on Thee is a welcome uplifting antidote of hope in the midst of culture of chaos and despair.
Sign up to see the movie free on October 10, here.