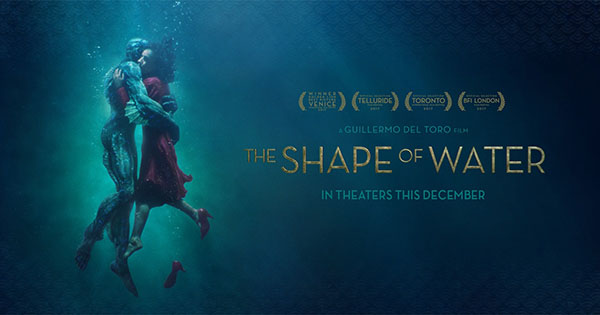 A sci-fi interspecies romance. A mute female janitor working in a 1960s top-secret government facility falls in love with an amphibious fish-man that looks like a modern Creature from the Black Lagoon.
Okay, so I have to give the Academy kudos for not giving the Oscar to the movie that celebrates adult sexual exploitation of teens. Instead, they opted for the movie that celebrates sex with animals.
That's like kicking out Harvey Weinstein, but keeping Roman Polanski.
And it is entirely predictable.
A theater full of moral hypocrites, sexual predators and their enablers joke about how depraved they are, and avoid speaking truth to their power, while they award best picture to a Christophobic fantasy about sex with animals.
Please. Stop the madness.
Yes, I know they hinted at "the problem" by virtue signaling, but the Pharisees did not address it explicitly like they do with "other people's sins." Now, all of a sudden, they are sensitive and subtle. They were like a government agency that assures us they are investigating their crimes, "So don't worry, we'll clean up our mess."
Yeah, right. While they arbitrarily destroy other men's lives with mere accusations and think the fascist race for the guillotine is "justice".
Their moral confusion is apparent in everything they do. It's time for real change.
Social Justice for Animals
But back to the movie, an abominable SJW hate-fest against another caricature of Christianity, and an elevation of the very paganism that leads to the sexual predation that Hollywood is consumed with, while mocking Christian men, like Mike Pence, for their honorable chivalric actions toward women.
Remember, the director, Guillermo del Toro, made the very pagan Pan's Labyrinth that was a fantasaical glorification of pagan blood sacrifice.
Well, he does it again in The Shape of Water.
The janitor is a lonely mute woman, Elisa, who works as a janitor at a government facility in the 1960s, a symbolic choice for the Cold War as a metaphor for "American paranoia" that supposedly leads to violent oppression of rights.
This is the stereotypical "Red Scare" narrative that worldwide panic was created by the vast right wing conspiracy about an ideology called Communism that didn't murder over 100 million people and certainly didn't threaten us with all those big scary nuclear weapons. And uncle Joe was a great guy too! Because we now know that 100 million weren't murdered by Communism, but rather the paranoid fear of America!
So, the storytellers try to paint a theme about "civil rights" by making the protagonist a marginalized victim, who only has two friends, who just happen to be other marginalized victims in the social justice pantheon: Zelda, a black woman at work and Giles, a gay artist next door.
So, the set-up is to equate her story with one of oppression and forbidden love. You know those evils that only Christian patriarchy create.
Which comes to the villain, another vile caricature of Christianity… Continue reading →