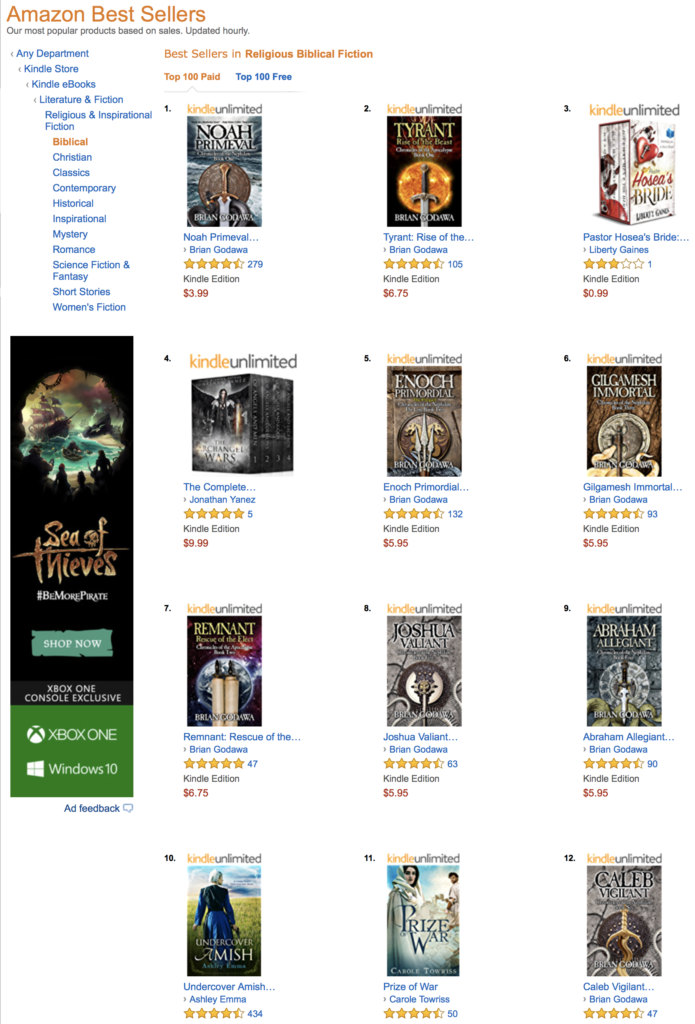 This is an un-retouched screen grab of Amazon's Top 10 in Biblical Fiction.
7 out of 10 are Godawa's Chronicles of the Nephilim or Chronicles of the Apocalypse.
The facts speak volumes for themselves.
Don't you want to know why?
They're fantastical, supernatural, theological, imaginative and very Biblical.
And readers are consuming the Chronicles with ravenous spiritual hunger.
Brian Godawa is a Christian and respected biblical author. The Chronicles deal with an amazing biblical storyline missed or ignored by many Christians: The War of the Seed. That's the Seed of the Woman vs. the Seed of the Serpent. The supernatural story of Christ's victory over the powers.
Here is what Bible scholar Michael Heiser says about the Nephilim Chronicles:
"A stirring tale of gods and men that confronts us with biblical reality through mythical fantasy. Noah Primeval is what Tolkien called "sanctifying myth" that we need in our own place and time."
– Michael S. Heiser, PhD, Hebrew and Semitic Languages
Academic Editor, Logos Bible Software
Take a look at the books here at Amazon
Get the Best-selling first book, Noah Primeval for only 99¢ here.