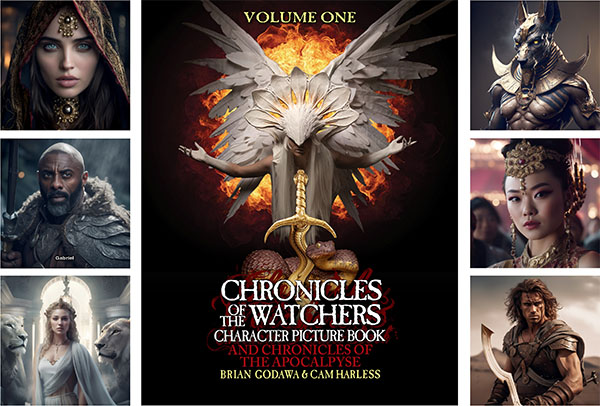 A couple posts ago I told you about the new Character Picture Book for Chronicles of the Nephilim.
Well, if you know my work, you know there are two other series, Chronicles of the Watchers and Chronicles of the Apocalypse..
I wanted to let you know that a New Character Picture Book is now available that has the characters from both those additional series in one volume.
It's a GREAT handy visual reference as you read the novels. You've already seen the images are fantastic on my website! (created by my colleague Cam Harless).
And this collector item is available in hardcover, paperback and ebook exclusively on Amazon.
Characters from the Books:
Jezebel: Harlot Queen of Israel

Moses: Against the Gods of Egypt

Qin: Dragon King of China.
But also included is the character art for the 4-novel series, Chronicles of the Apocalypse:
Tyrant: Rise of the Beast

Remnant: Rescue of the Elect

Resistant: Revolt of the Jews

Judgment: Wrath of the Lamb.
A premium collector's item!
Check out the New Picture Book here (in paperback, hardcover or Kindle)