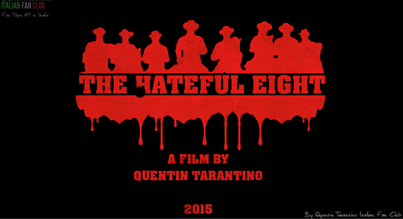 Western Mystery Thriller. In the post Civil War period, an infamous bounty hunter, bringing a female criminal to a town for hanging, stays at an outpost during a storm. While there, he encounters a group of dubious characters who will complicate his quest.
Watching a Tarantino movie is watching a 90 minute film stretched out to almost 3 insufferable hours of long rambling scenes with trivial dialogue that should have been cut in half. It was a clever trick in the long table scene of Reservoir Dogs, but now it seems like its every scene in every movie of his.
Along with gratuitous racism, excessive and irrelevant profanity (His romance with the N-word continues with this film), and an erotic fetish for violence.
I watch this crap, so you don't have to.
Now, keep in mind, I am not against the accurate depiction of evil in a story. I do it myself, and some of my favorite movies do as well. It's all in the context. And one gets the impression watching this guy's movies that his "signature" or voice is that of a video store clerk's obsession with shock because it's the only thing that interests his numbed conscience from watching too many movies.
Tarantino tries to mimic the spaghetti westerns of the 60s and early 70s, complete with Cinerama widescreen and 1960s western titles and music. The movie starts with an excruciatingly indulgent "Overture" of music over a flat graphic — like they had for epics in the olden days. The movie is an homage that illustrates his own nostalgia for old movies more than an actual creative take on the subject. The whole nostalgia thing worked once in Pulp Fiction. The metaphor that I think best describes this director is that of a young dinosaur that is unaware of the concept of extinction.
The first shot is a long, meandering dolly out of a stone crucifix of a suffering Christ, apparently a gravestone, covered in the blistery snow of dead winter. Yes, foreshadowing the violence to come (as all Tarantino movies end in an orgy of violence), but could it also be a visual cue of the "death of God" in the story he is about to tell, or rather in his own worldview?
The rest of the movie watches like a play that has been adapted to the screen. The bounty hunter, (Kurt Russell) brings along a captured female outlaw (Jennifer Jason Leigh), who the director enjoys getting laughs out of beating up and calling "bitch." It seems the only word Tarantino loves as much as the N-word is the B-word. Back to the story. So these two end up at the outpost lodge with another bounty hunter (Samuel L. Jackson) and the new sheriff of the destination town. There are several other dubious lodgers already there. As they wait for the snow storm to subside, some subterfuge occurs and the whole thing is a mystery to figure out if any of the other lodgers are hostile and waiting for their moment to free the female prisoner.
There is really nothing special here. Just a murder mystery play, with a few good twists, good performances by the actors (I will always watch any movie with Kurt Russell in it). But certainly nothing worthy of Oscar nominations.
Before the inevitable Tarantino bloodbath ending, there is one good moment of insight. Tim Roth plays the hangman of the town who is also on his way to the same destination. He has a discussion with one of the other characters about justice. He explains that the rule of law is what civilized society calls justice. While lynching or vigilanteism is frontier justice, which is just as apt to be wrong as right. He then says that the only real difference between the two is the hangman, because dispassion is the essence of justice. Justice delivered with passion is always in danger of not being justice. So for a moment, it appears that Tarantino may actually be supporting the rule of law as the means of civilized justice.
Which is really an odd thing, considering his own recent real life involvement with racist anti-cop protestors in New York. A few days after a NY cop is murdered, he pronounced cops as murderers who engage in alleged institutional "police terror." Of course, he would argue that he is standing against corrupt authority, not good cops, but the problem is that the whole racist police narrative is itself a corrupt racist conspiracy theory, whose purpose is to incite racial hatred and uncivilized rage that results in lawlessness, mob violence and inspires more cop killers. Hey, what happened to that rule of law?
But when you consider the character who says those lines about dispassionate justice in the movie, along with Tarantino's own passionate hate speech, maybe he's really spitting on the whole concept of dispassionate rule of law in favor of his passionate hate. Maybe he really believes in the frontier lawlessness he so often celebrates in his movies like a religion of violence.